Hall C – For up to 120 people
Hall C features radiant natural light pouring in from Vaksala Square and the space can be furnished to meet your requirements. The glass walls in the room can also be opened up to extend the space.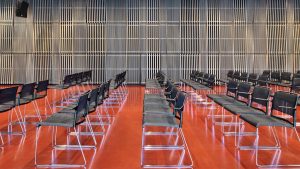 Hall C on level 3 is the perfect conference venue for groups of up to 120 people. The venue can be furnished in a number of different seating plans to meet your needs. The glass walls facing the foyer have partitions that can be opened up, providing the possibility of creating a larger open space towards the foyer.  The hall is also perfectly suited to smaller exhibitions.
In the foyer outside there is a refreshments bar with views over Vaksala Square.  There are also toilets and a wheelchair accessible toilet here.
Capacity
Cinema seating: 120 persons
Classroom seating: 70 persons
Islands: 60 persons
Horseshoe seating: 36 persons
Seated dinner: 120 persons
Mingle: 120 persons
Room/stage
Size: 145 m²
Ceiling height: 5 meters
Stage/podium 5 x 3 metres. Height: 20 cm.
Technical/Equipment
Permanently mounted data/video projector and film screen
Microphones (2 wireless)
Pens and writing pads
Hearing loops
Podium furnishing (1 bar table, 1 lectern, 1 rectangular table)
A technician at start up
Optional without fee: 2 fixed microphones, document camera, DVD player
Similar venues
Hall B – Perfect for 100-340 delegates

350 square metres customised to your needs! One of the most flexible venues at Uppsala Konsert & Kongress with a variety of uses.

Conference rooms K3+K4

Smaller conferences and parallel sessions on level 3.
Good to know